Santa Clarita Jails Information
Santa Clarita Sheriff Station Jail
26201 Golden Valley Road
Santa Clarita, CA 91350
Station/Jail: (661) 260-4000
Pitchess Detention Center is still also known and referred to as "Wayside."
Pitchess Detention Center  – East Facility
29310 The Old Road
Castaic, CA 91384-2905
Business Phone: (661) 295-8815
Pitchess Detention Center – North Facility
29320 The Old Road
Castaic, CA 91384
Business Phone: (661) 295-8840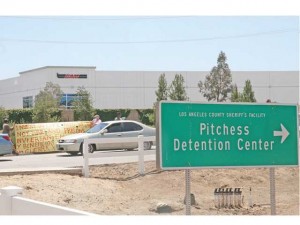 Pitchess Detention Center – South Facility
29330 The Old Road
Castaic, CA 91384
Business Phone: (661) 295-8805
(NCCF) North County Correctional Facility
29340 The Old Road
Castaic, CA 91384-2905
Business Only Phone: (661) 295-7810
General Inmate Information: 213-473-6080
Santa Clarita Courthouse Information
Santa Clarita Jail and Visiting Information
When a defendant is taken into custody in Santa Clarita, they will be likely be transported to the Santa Clarita Jail located on Magic Mountain Parkway. While there, they will be booked and processed into the jail's computer system.
The Santa Clarita station has 11 jail cells and is capable of temporarily housing up to 40 inmates.
The Booking Process
The booking process at this station generally consists of taking the arrestees fingerprints, photographs, conducting a nationwide background check or "Live Scan" and entering them into the system. This can take from 2 to 6 hours or more depending upon the defendant's individual situation.
If the defendant has a medical problem, or the jail is overcrowded, it is highly likely the arrestee will be transported by bus to the Los Angeles County Twin Towers Facility. Women will be transported to the Lynwood Jail or (CRDF).
Once the booking process is completed, they will be clear for bail. An Adventure Bail Bondsman can post a bail bond at this jail facility 24 hours a day.
The release time once the bond is posted can take anywhere from 30 minutes to several hours, depending upon the individuals' circumstances.
If defendants are transported, their release time will be increased significantly. It take an additional 12-24 hours. We recommend posting bail for the defendant while they are still at the smaller Santa Clarita jail facility, for a much faster release time.
Jails in the Santa Clarita Valley and Surrounding Areas
There are other Santa Clarita Jails and Detention Centers located within the Santa Clarita and surrounding areas, such as the Pitchess Detention Centers, (also known as Wayside Jail) and NCCF, (North County Correctional Facility).
For information regarding any of these jails or detention centers, you can contact a licensed, local agent with our company to find out where the defendant is in the booking process, their location, their charges or their bail amount.
If you are planning on visiting an inmate at one of these jails, it is best to adhere to all of their rules and regulations.
The jail visitation times at the Santa Clarita Station Jail are from 10:00 am to 2:00 pm every day.
The Santa Clarita Station jail will allow inmates to receive 15 minute visits. This is limited to (1) adult and (2) children.
All children are required to be accompanied by a parent or legal guardian.
All visitors must show a valid government issued photo identification, passport or other acceptable form of ID.
Visits will be taken on a first come, first serve basis. This may be subject to delay due to jail staff workload and hours.
All visitors at the Santa Clarita Sheriff's Station Jail are subject to a search of their person.
Visitors are subject to arrest should any warrants, illegal drugs or weapons be found by the jail deputy.
Feel free to contact us anytime regarding Santa Clarita Jails and bail information. An experienced, local bail bondsman can guide you through the system and answer your questions privately and professionally. Call any time at 661-260-2245 or toll-free 855-414-2245.
*We're the closest agency to the Santa Clarita Station Jail with comfortable offices just across the street at 23734 Valencia Blvd., #300, Santa Clarita, 91355.
Additional Bail Bond information in Santa Clarita Areas:
Green Valley
Gorman
Lake Elizabeth
Hasley Canyon
Hurricane Harbor
Lake Hughes
Leona Valley
Masters College
Mint Canyon
Mountasia
Placerita Canyon
Robinson Ranch
Sand Canyon
Santa Clarita Bail Bonds
Sleepy Valley
Sylmar
Tesoro Del Valle Bail Bonds
TPC (Tournament Players Club)
Val Verde
Vasquez Canyon
Vasquez Rocks
Wayside
Westridge
West Ranch Bail Bonds