Los Angeles County Jail Info. and Visiting Hours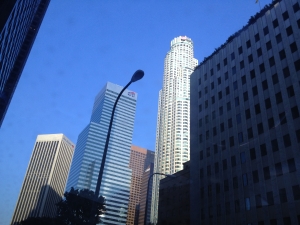 Men's Central Jail – Los Angeles
441 Bauchet Street
Los Angeles , CA  90012
Inmate Information: 213-473-6100
24 Hour, Men's Central Jail Bail Bond Info:
(213) 373-5245
Visiting Hours: Thurs – Sun 10 am to 3 pm – Sat. and Sun. 7 pm to 3 pm
Twin Towers Jail
450 Bauchet Street
Los Angeles , CA  90012
Inmate Information: (213) 473-6100
24 Hour, Twin Towers Jail Bail Bond Info: (213) 373-5245
Visiting Hours, Tower One and Two:
Mon and Tues 9:30 am to 12:45 pm – 2:30 pm to 6 pm
Sat. and Sun. 7:30 am to 12:45 pm and 2:30 pm to 3:45 pm
IRC Inmate Reception Center
450 Bauchet Street
Los Angeles, CA 90012
Inmate Info: 213-473-6100
24 Hour IRC Bail Bond Info: 213-373-5245
Century Regional Detention Facility (CRDF) – Lynwood Jail
For women
11705 Alameda Street
Lynwood, CA  90262
General Inmate Information: 213-473-6100 or 213-473-6080
24 Hour, CRDF-Lynwood Jail Bail Bond Info: (213) 373-5245
Visiting Hours: Sat. and Sun 8:30 am to 3:30 pm – 5:30 pm to 7:30 pm
LAPD Metro Detention Center Jail
Formally known as, Parker Center Jail
180 North Los Angeles Street
Los Angeles, CA 90012
Main: 213-485-3101
MDC Arrest Hotline: 213-485-2556
24 Hour, Metro Detention Center Jail Bail Bond Info: (213) 373-5245
Visiting Hours: at MDC are 7 days a week from 10:00 a.m. to 12:00 p.m.
and 1:00 p.m. to 3:00 p.m
Pitchess Detention Facilities
East Facility
29310 The Old Road
Castaic, CA 91384-2905
Business Phone: (661) 295-8815
Pitchess Detention Facilities
North Facility
29320 The Old Road
Castaic, CA 91384
Business Phone: (661) 295-8840
Pitchess Detention Facilities
South Facility
29330 The Old Road
Castaic, CA 91384
Business Phone: (661) 295-8805
North County Correctional Facility (NCCF)
29340 The Old Road
Castaic, CA 91384-2905
Business Only Phone: (661) 295-7810
General Inmate Information: 213-473-6080
See this page, for a complete list of all Los Angeles County Jails
General Public Visiting Rules and Guidelines:
The general public may visit inmates at any Los Angeles County Sheriff's Department Jail Facility.
Visiting hours will vary and are subject to change without any prior notice.
People requesting visitation privileges must possess a valid photo I.D., including:
Valid California Identification Card or driver's license
U.S. Military identification card
A valid Passport/Visa
Alien Registration card
Minors under the age of sixteen, shall be accompanied by, and remain under the close supervision of, their parent of verifiable legal guardian.
Upon prior request from an inmate, his minor children, over the age of twelve (12) years and not yet sixteen (16) years, may be permitted to visit unaccompanied by an adult with the approval of the facility unit commander.
Record checks may be made if it is considered necessary for the security of the inmates, employees, visitors, or the facility.
For additional information on any above jail facility, call a licensed bondsman 24 hours a day at toll free 855-414-2245.
For additional information on areas in Los Angeles we service, see our website or call 855-414-2245: