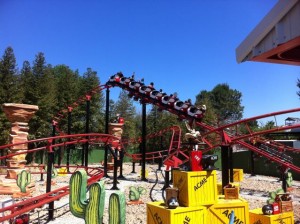 Magic Mountain Bail Bonds
Has a friend or loved one been arrested and taken into custody at Magic Mountain? If so, you're probably wondering what to do next, and we can help.
A friendly, knowledgeable bail bondsman is always available to take your call and answer any questions that you have.
Magic Mountain is one of the major tourist destinations located in the Santa Clarita Valley, and is also the location of the water park Hurricane Harbor. Sometimes, when out and about, people make mistakes and find themselves in police custody, even at Magic Mountain.
If you would like to speak directly with a local, licensed, professional bail bondsman, then please give us a call any time at 855-414-BAIL (2245). We're ready any time of day or night to take your call and we're right around the corner from Magic Mountain!
Our convenient office is located on the corner of Magic Mountain Blvd. and Valencia Blvd. Just across the street from the Santa Clarita Station Jail!
Santa Clarita Sheriff Station and Jail Information
Santa Clarita Valley Sheriff Station
26201 Golden Valley Road
Santa Clarita, CA 91350
Station/Jail: (661) 260-4000
24 Hour Magic Mountain Bail Bond Info 855-414-2245
LASD Inmate Locator
When someone is arrested at Magic Mountain, it is usually the Santa Clarita Sheriff Station deputies who take him or her into custody. After that, it's a short jaunt down Magic Mountain Parkway to the Santa Clarita Valley Sheriff Station to undergo booking and processing. After that, bail will be set and the arrestee will be eligible for release via bail bond.
The SCV Sheriff Station jail is a small facility, however, booking and processing can often take from 2 to 4 hours or more. Once this procedure has been completed, the inmate will either remain at the jail for until their appearance in court, or will be transferred out to one of the larger downtown jails like Twin Towers (for male inmates) or the Lynwood Jail (for females).
If and when transfer does occur, up to an additional 24 hours can be added to an inmate's time in custody while they are "processed in" to the new facility. Beginning the bail bond process for the defendant as quickly as possible, can often avoid the transfer completely.
What is a Bail Bond?
Want to know how a bail bond works? Bail bonds, also known as "surety bonds" offer financial incentive to the court in order to secure the release of an inmate in custody.
Basically, it is a private individual saying "I assure you that the accused will show up for their court appointment(s)." If the defendant does not show up for their mandatory day(s) in court, then the indemnitor (signer) of the bail bond will be responsible for paying the bail amount in its entirety.
Since the person who signs the bail bond indemnity agreement is financially responsible for the defendant's appearance in court, it is always best to only bail those out of jail whom you know and trust.
The Bail Bond Process
It all begins by giving us a call and providing the full name, birth date and date and time of arrest of the individual in question. We will use this information to quickly locate him or her within the system and verify their eligibility for bail. If not all of the above information is available to you, we can still help you out.
After the inmate has been located and their eligibility for bail verified, it will be time to fill out a few easy bail bond application forms and the indemnitor's agreement. Once complete, one of our local agents will be dispatched to the jail and your friend or loved one will be released shortly thereafter.
Since Magic Mountain serves a lot of guests from out of the area, and we are the closest agency to both Magic Mountain and the jail, we are often unable to meet face to face with our clients. Luckily, the entire bail bond application process can also be completed via phone, fax or email.
Paying for a Bail Bond
We will meet and beat any locally advertised price! We add no additional charges or fees when you work with us, nor do we charge interest if you choose to finance your bail bond. Our goal is to help you get your friend or loved one out of jail as fast as possible, not to put financial stress on families. For clients who are interested in financing the cost of a bail bond, we have several flexible payment plans that are designed to fit a variety of budgets. Regardless of how you choose to pay, we never include any additional fees, charges or interest.
If you have questions about Magic Mountain bail bonds, or would like to get the bail bond process started right away, feel free to give us a call.
A local, licensed, professional bail bondsman is available 24 hours a day, 365 days a year to take your call and help you through this difficult time. Call us locally in Santa Clarita at 661-260-2245 or toll-free at 855-414-BAIL (2245).