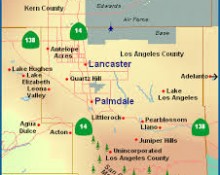 Local Antelope Valley Bail Bonds
If someone you care for has been arrested and taken into custody anywhere in the Antelope Valley, and you're in search of local Antelope Valley bail bonds, we can help you quickly and professionally.
Our office and agents are local to the Antelope Valley and can work with you personally at the jail or your home, office or our office or whenever it's convenient for you.
For fast information on any of the jails or areas in the Antelope Valley, click on to the specific link below, or call us locally at 661-260-2245, anytime 24, hours a day:
If bail isn't posted at any of these jails within 24 hours of an individual's arrest, they will likely be transferred to one of the larger County facilities in downtown Los Angeles , such as, Twin Towers, Men's Central or the Lynwood Jail (for women).
These larger County facilities are very busy, so it's important to understand that it can easily take an additional 24 hours to get someone bailed out once they have been transferred. Our recommendation is to always post bond for the defendant while they are still being held at one of the smaller station jails.
Booking and Processing
When someone is arrested, they are taken to the police or Sheriff station to undergo the procedure known as booking and processing. This is where fingerprints and photographs are taken, and a national background check is conducted.
Once this process has been completed, bail will be set (for those who are eligible) as per the Los Angeles County Bail Schedule.
The Bail Bond Process
When you call us, we will ask the full name, birth date and date and time of arrest of the defendant. If not all of this information is readily available, don't worry, we can still assist you. This information is used to quickly locate the individual within the jail system and verify his or her eligibility for bail.
Once this has been done, the bail bond application forms and indemnitor agreement must be filled out. After that, one of our agents will be quickly dispatched to the jail and your friend or loved one will be released. If you are not in the area or cannot meet with us in directly in person, the bail bond application process can easily be completed from start to finish via phone, fax or email. What works best for you will always work best for us.
The Cost of a Bail Bond in Antelope Valley
We will meet and beat any locally advertised price! We add no additional charges or fees when you work with us, nor do we charge interest if you choose to finance your bail bond. Our goal is to help you get your friend or loved one out of jail as fast as possible, not to put financial stress on families. For clients who are interested in financing the cost of a bail bond, we have several flexible payment plans that are designed to fit a variety of budgets. Regardless of how you choose to pay, we never include any additional fees, charges or interest.
We take cash, checks, major debit/credit cards (Visa, Master Card, American Express and Discover), money order, bank account transfer and money wire.
For information 24/7, call us locally in Antelope Valley at 661-260-2245 (BAIL), or toll-free at 855-414-BAIL (2245). We're here when you need us the most and we understand what you are going through. Call us anytime. Areas we service in Antelope Valley:
Acton
Agua Dulce
Antelope Acres
Boron
Elizabeth Lake
Inyokern
Lancaster
Mojave
Neenach
Quartz Hill
North Edwards
Palmdale
Pearblossom
Sun Village
Willow Springs