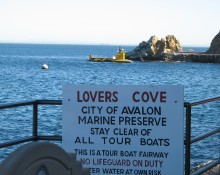 Avalon Station Jail – Catalina Island Bail Bonds
If someone you know has been arrested and taken into custody on Catalina Island in Avalon, California, you're probably wondering what to do next and we can help. A professional bail bondsman is available to take your call at any hour and quickly answer any and all of your questions.
Catalina Island is a vacation hot spot for folks from all over California. It's home to the oldest fishing club in the US, The Tuna Club (founded in 1898), the Green Pleasure Pier, and several historic inn's and Hotels.
If you need to speak with a bail bondsman about Avalon/Catalina Island Jail bail bonds, one of our bail agents is available now to take your call at 310-782-BAIL (2245) or toll-free at 855-414-BAIL (2245).
Avalon Sheriff Station Jail Information
Avalon Station Jail
215 Sumner Ave.
Avalon, CA 90704
Station/Jail Phone 310-510-0174
24 Hour Catalina Island Bail Bond Info 310-782-BAIL (2245)
LASD Inmate Locator
The deputies at the Avalon Station Jail are responsible for the law enforcement needs of Catalina and San Clemente Islands, as well as the waters in between those two islands and the mainland US. Individuals arrested on Catalina Island will be taken to the Avalon Station Jail to undergo the procedure known as booking and processing.
There are only 11 deputies, 3 sergeants and 2 watch commanders assigned to the station full-time, and individuals taken into custody are usually transferred to one of the larger jails on the mainland US after a few hours.
These larger jails will typically be much busier than their smaller counterparts, such as the Avalon Station, and when an individual is transferred, he or she should expect to remain in custody for as long as 24 hours (if not longer) as they are "processed in" to the larger facility. Getting the bail bond process started quickly, though, can often avert this transfer and minimize an individual's time spent in custody.
Additional Options for Release
There are other ways in which an arrestee can be released from police custody besides a bail bond. Those methods include
O.R. (Own Recognizance) – This is where an individual is released after providing written verification of a promise to attend all of their court dates. The severity of the crime will greatly influence a judge's decision in whether or not to allow someone to be released on O.R.
Property Bond – An individual can be released via property bond when they choose to put up a piece of property as collateral instead of paying bail. The piece of property must have equity equal to 150% of the bail amount.
Cash Bond – Cash bonds are exactly what they sound like. Either the arrestee (or an indemnitor) puts up 100% of the bail amount in cash (or money order, cashier's check, etc.) in order to secure release. If an individual fails to meet their court obligations, the entire bail amount is forfeit. However, if their obligations are met, then the cash bond will be returned, minus whatever administrative fees are involved.
Citation Release, "Cited Out" – Being "cited out" essentially means that the court releases an individual from custody based on their promise to appear in court. This form of release is often reserved for very minor offenses and infractions.
The Bail Bond Process
All you need to do is give us a call and provide the name of the defendant. If additional information is available, such as their birth date, current location and date and time of arrest, this can be useful but isn't always necessary. We will use the information provided to locate the defendant within the system and verify that he or she is eligible for bail.
Once their eligibility for bail has been verified, the next step is to fill out our short, simple, bail bond application forms and indemnitor agreement. After that, you will be provided with a receipt and your friend or loved one will be released from jail a few hours later.
In order to best accommodate our clients, we accept a variety of payment options including major debit/credit cards (American Express, Visa, Master Card and Discover) as well as cash, check, money order, bank account transfer and money wire.
We know that this can be a stressful time, and we're here to help you out. Our bail agents have years of experience in the bail industry and are able to quickly answer any and all of your questions, as well as get the bail bond process started immediately.
If you would like more information regarding Avalon/Catalina Island Jail bail bonds, please call us any time at 310-782-BAIL (2245) or toll-free at 855-414-BAIL (2245).