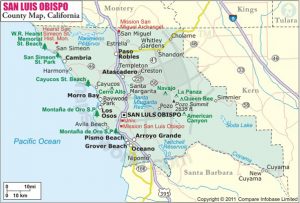 San Luis Obispo County Jail Information
Has a friend or loved one been arrested in San Luis Obispo County? If so, help is just a phone call away. At Adventure Bail Bonds, we understand how stressful times like this can be, and we're here for you 24 hours a day, 7 days a week.
If you would like any additional information regarding bail, bail bonds, or San Luis Obispo bail bonds, feel free to give us a call any time of day or night at 805-874-BAIL (2245).
We're more than just bail bondsmen. We provide our clients with everything they need, including jail locations, visiting hours, addresses, public defender info, and other important information regarding San Luis Obispo jails.
If you need information right away, one of our 24-hour bail professionals is available to provide you with any information you require and answer any questions you have.
San Luis Obispo Main Jail Information
San Luis Obispo County Jail
1585 Kansas Ave.
San Luis Obispo, CA 93405
805-781-4600
San Luis Obispo Jail Inmate Locator
When someone is arrested in San Luis Obispo, they are often transported to the San Luis Obispo County Jail. The purpose of the facility is to protect and house populations of both pre-trial inmates awaiting their court date and post-trial inmates currently serving their sentence. It has a minimum, medium, and maximum security area, and both males and females are held here, though not together.
The San Luis Obispo County Jail is a long-term holding facility where defendants go once their 72-hour holding period has passed at the local jail where they were being held. In some cases though, suspects are brought directly to the county jail. If you're unsure where your friend or loved one is located, you can use the inmate locator above or contact us for assistance – we're always happy to help.
What Happens Immediately After Arrest?
When someone is arrested and taken into custody in San Luis Obispo County, their next stop is either local or county jail to undergo booking and processing. This is the procedure during which photographs are taken, fingerprints are recorded, and a comprehensive national background check is conducted. Once these steps have been completed, bail is set for those who are eligible and it is possible to obtain their release via bail bond.
What Is the Bail Bond Process?
To begin the bail bond process, simply give us a call and provide us with the name, birth date of the person you want to bail out of jail. We use this info to locate them within the jail system and verify their eligibility for bail. Once that has been established, we will have you fill out our short, simple bail bond application forms. Finally, we will dispatch an agent to the jail, and your friend or loved one will be released a short time later.
It's okay if you're unable to meet with us directly. It's possible to complete the bail bond process via phone, fax, or email.
If you have any additional questions about bail bonds in San Luis Obispo, or would like to get the bail bond process started immediately, give us a call any time of day or night toll-free at 805-874-BAIL(2245) or toll-free at 855-414-BAIL (2245). An agent is available 24 hours a day, seven days a week to take your call.