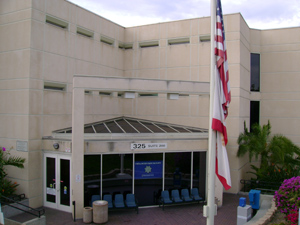 Vista Detention Facility – Bail Bond and Jail Information
Vista Detention Facility
325 S. Melrose Dr. Ste. 200
Vista, CA 92081
Phone: 760-936-0014
San Diego County Inmate Locator
24 Hour Vista Detention Facility Bail Bonds: 855-414-2245
The Vista Detention Center, or VDF, serves as the primary inmate intake point for both males and females in North San Diego County. The VDF is one building in a large group of  buildings known as the NCRC or North County Regional Complex. The other buildings include: the Vista Sheriff's Station, North County Superior Court, and the North County Law Library.
The majority of the inmates at the Vista Detention Facility are those awaiting court proceedings for cases in North County. The jail is administered by the San Diego County Sheriff's Department and houses 884 beds.
Visiting Information
Visitation scheduling will depend on which portion of the jail an inmate is located and will require a reservation. All reservations can be made via telephone (from 10:00 am to 2:00pm) or email (24 hours a day except Mondays).
If you plan to visit someone at the VDF, remember to check in at least one hour prior to your appointment.
Bail Process
When someone is arrested, they are first taken to the police or sheriff station for booking and processing. The arrestee's fingerprints will be recorded and photographs will be taken. Also, a nationwide background check will be conducted. Once completed bail will be set if the individual is eligible.
Bail is set as per the County Bail Schedule and will vary greatly depending on the crime(s). Once bail has been set for an eligible inmate, he or she will only need to have a bond posted to be released.
How to Get Started
It all begins by calling us and speaking directly with a licensed bail bondsman who will be happy to walk you through the bail application process in detail.
It is no longer necessary to meet face-to-face with a bail bondsman in order to get a bail bond. The entire process can be done via phone, fax or email. Our goal is to make the process as quick and easy for you as possible.
What Does a Bail Bond Cost?
We will meet and beat any locally advertised price! We add no additional charges or fees when you work with us, nor do we charge interest if you choose to finance your bail bond. Our goal is to help you get your friend or loved one out of jail as fast as possible, not to put financial stress on families. For clients who are interested in financing the cost of a bail bond, we have several flexible payment plans that are designed to fit a variety of budgets. Regardless of how you choose to pay, we never include any additional fees, charges or interest.
If a friend or loved one is located at the Vista Detention Facility and you'd like to get them out, don't waste another minute.
Call us any time 24/7 and speak with a friendly, knowledgeable bail bondsman that can help you get them out of jail quick. We can be reached at 855-414-BAIL (2245).