Santa Barbara Bail Bonds
Has someone you know or love been arrested and taken into custody in Santa Barbara, CA? Perhaps they were at a college party that got a little out of hand, or maybe a Santa Barbara Police officer or Sheriff's deputy picked them up for drunk driving? Either way, we can help.
Our local bail bondsman are standing by to assist you anytime day or night. We can meet with you at your convenience at the jail, your home, or office. What's convenient for you?
If you have questions about Santa Barbara bail bonds, or are looking to get the bail process started as quickly as possible, then give us a call now locally at 805-874-2245 or toll-free at 855-414-BAIL (2245). A local, licensed, friendly bail bondsman is available to take your call any time of day or night.
Santa Barbara Police Station and Jail Information
Santa Barbara County Jail
4436 Calle Real
Santa Barbara, CA 93110
805-681-4260
Santa Maria Jail
812-A West Foster Road
Santa Maria, CA 93454
Santa Barbara Sheriff's Department Substations
Buellton Station
140 West Hwy 246
Buellton, CA 93427
805-686-8150
Carpinteria Station
5775 Carpinteria Ave.
Carpinteria, CA 93013
805-684-4561
Cuyama Valley Station
215 Newsome St.
New Cuyama, CA 93254
661-766-2310
Lompoc Station
751 Burton Mesa Rd.
Lompoc, CA 93436
805-737-7737
Solvang/Santa Ynez Station
1745 Mission Drive
Solvang, CA 93463
805-686-5000
Isla Vista Foot Patrol Station
6546-A Pardall
Isla Vista, CA 93117
805-681-4179
The Isla Vista Foot Patrol Station is in charge of providing law enforcement to the University of Santa Barbara Campus. Those arrested on or around the campus are often taken to the UCSB Police Station for booking and processing.
UCSB Police Station
Public Safety Building 574
Santa Barbara, CA 93106-1010
Premium Bail Bond Services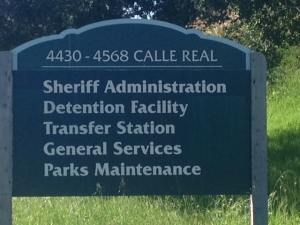 We know that this can be a stressful time for families as well as individuals, and we're proud to offer quality service to those who need our help. It all begins by giving us a call any time 24/7 and speaking with a friendly bail bondsman. If you have any questions, we are more than happy to answer them for you as well as get the bail bond application process started immediately.
If you're in the area and would prefer to meet us at our office, that's fine. If not, we can either meet you at your home, the jail where your friend or loved one is being held and can even walk you through the bail bond process from start to finish via fax or email.
The Cost of a Bail Bond
We will meet and beat any locally advertised price! We add no additional charges or fees when you work with us, nor do we charge interest if you choose to finance your bail bond. Our goal is to help you get your friend or loved one out of jail as fast as possible, not to put financial stress on families. For clients who are interested in financing the cost of a bail bond, we have several flexible payment plans that are designed to fit a variety of budgets. Regardless of how you choose to pay, we never include any additional fees, charges or interest.
We accept a variety of payment methods, and pride ourselves on our creative financing.
Indemnitor Responsibilities
It is important to only bail someone out of jail that you trust. As the signer of the bond, you will be responsible for the entire bail amount should the defendant choose not to appear for court.
If you want your questions answered, or desire to get someone out of jail, don't waste another minute. Call and speak to a professional bail bondsman and get the process started now. Local agents are available at 805-874-2245 or toll-free, nationwide at 855-414-BAIL(2245).